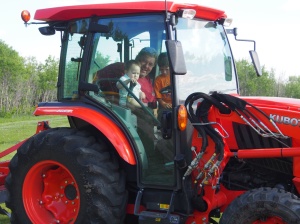 Frank is the founder of Lakeland Vegetation.  He has vast experience in highway maintenance, starting his career as an operator in 1981 with Alberta Transportation.  Frank remained active as a general foreman with the government until 1995.  During the privatization transition of Alberta's highway maintenance sector, Frank was actively involved in lending his expertise to the contactors taking control of this system.  While acting as a consultant he was offered employment with Transportation Systems Management Inc. as a superintendent for contract maintenance areas 7, 8, 14, 15 and 16.  As superintendent for TSM, Frank was in charge of many facets of highway maintenance including: financial planning, maintenance management, weed control management, safety mitigation, supervision of 140 staff members, project management, project estimating, quality control management, and supervision of special projects (such as bridges and drainage systems).
In the late 1990's Frank began a small side business with the hope of helping his children through their post secondary education.  A few grass maintenance contracts were awarded to Ireland Contracting for the summer months with great success.  After a few seasons of grass maintenance, Frank's company grew to include roadside vegetation control.   With the added work he was able to work full time with his own company, which was now limited as Lakeland Vegetation Management.  Over the last 13 years Frank has guided the company into many diverse areas from highway cracksealing to power line reclamation.  His strong work ethic and emphasis on completing every job, regardless of size, with pride and integrity is something he continues to instill in each of his staff members.
Joanne Ireland BSc. For., NCSO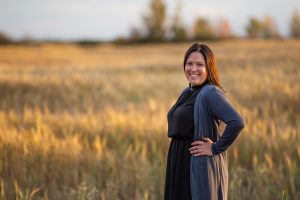 Joanne Ireland has been working with Lakeland since the age of 14.  During these early years Joanne worked alongside her father, Frank Ireland and brother, Richard Ireland.  Together they started small grass cutting contracts in the summer months evolving into vegetation control of highway right of ways.  During this period she also attained her Bachelors of Science Degree in Forest Management at the University of Alberta.  upon completed of university she continued to work with Lakeland in the summer months and as a snow plow operator for the highways in the winter.
When Lakeland continued to expand and bought its first snowcat, it allowed Joanne to work full-time for the company as an operator/administrator/safety.   At this time, Lakeland was actively pursuing its Certificate of Recognition through the Alberta Construction Safety Association.  Although Frank was an active safety officer for many years, it was decided that Joanne would attain her National Construction Safety Officer certification through the ACSA.  By the early spring of 2008 Lakeland became a COR holder and Joanne received her NCSO status.  With the continual growth of Lakeland Joanne's role became more centralized around management of all office and safety duties including contract/bid proposals and estimates, creation and maintenance of the HSE program, payroll, invoicing, payables and contract/project management.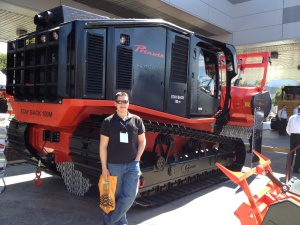 Richard started with Lakeland at the young age of 12.  During these early years he worked seasonally as a grass maintenance operator and pesticide applicator.  Even at this early age, Richard took a great interest in repairing and developing new equipment to make work more efficient and effective.  After the completion of high school he worked as a snow plow operator, where his love for equipment and problem solving grew.  While working alongside his foreman/heavy duty mechanic in Fort McMurray he decided to enroll in the Heavy Duty Mechanic Program at NAIT.  While obtaining his HET ticket, he began full-time employment with Lafarge North America eventually becoming the lead mechanic for the highway maintenance division (Anthony Henday Freeway).
He continued as the lead mechanic for 7 years.  Even during this time he maintained his great interest with Lakeland and worked in his spare time with repairs, maintenance and development of its equipment.  In the spring of 2014, Richard returned to Lakeland as the lead equipment manager.  Since his return, he has revolutionized Lakeland's maintenance program.  He has been able to completely update and restructure maintenance with the addition of a state of the art, fully equipped 4 bay shop.  He has also obtained the accreditation to be a licensed inspection facility.
Jennifer Ireland BN, NCSO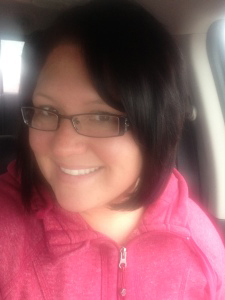 Jennifer started her career as a summer student working in highway maintenance. Her passion for helping others made enrolling into nursing an easy decision. In 2002 Jennifer graduated from the University of New Brunswick with a Bachelor's Degree in Nursing. Over the next 12 years she worked as a registered nurse in many facets from Neurological ICU at the University of Alberta Hospital to a manager in charge of Home Care in the Stony Plain area. Throughout this time she also had a great interest in the safety of her immediate family, Frank, Richard and Joanne.
In the spring of 2014, Frank offered her employment with Lakeland as a Safety Advisor. Although outside the area she was familiar with, Jennifer brings a new and unique view to safety. She has seen the effects of injury in the workplace and is now using this perspective to manage Lakeland's safety program in a new way. Although she has been with Lakeland for a relatively short time, she has already received her NCSO designation and has become a St. John's Ambulance first aid trainer.
Reclamation Project Manager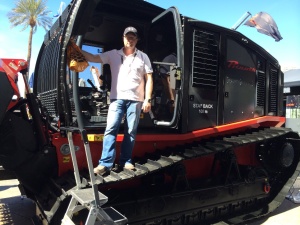 Chris spent a majority of his career as the mill manager at Tolko in High Prairie.  For the 13 years he worked at Tolko he actively supervised 50 employees.  He was also responsible for up to 300 log trucks cycling the wood yard, managed fibre storage, processing and inventory.  He was an active member of the joint health and safety committee, operated/ trained on heavy equipment, and was involved in incident investigations and risk reduction.  With the closure of the mill in 2008, Chris was hired on with Lakeland Vegetation as an operator mainly involved in chemical vegetation control, mulching and ice road construction.
Chris has also had a keen interest in maintenance and repairs of equipment.  As the company grew, he took an active role in management as a foreman and eventually a project manager in power line reclamation for SNC-Lavalin and AltaLink. Chris excels at leading and training new workers and is extremely talented at finding new and innovative ways to complete projects on time and under budget.
Henday Maintenance Manager/ Winter Ice Road Foreman and Operator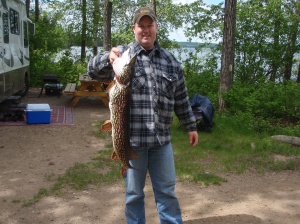 Owen has vast experience in the aggregate industry, spending 15 years as an operator and foreman for Sil Industrial Minerals and Inland.  Owen started with Lakeland in 2013 managing Lakeland's contract for the grass maintenance/winter snow removal on the Anthony Henday Freeway under Lafarge North America.  As the Henday Maintenance Manager Owen ensures that all work is completed efficiently and smoothly.
He co-ordinates equipment, work and maintenance while maintaining an excellent working relationship with Lafarge, Alberta Transportation and Edon Property Management.  In the winter months Owen works as a foreman/operator in Lakeland's oilsands projects leading a large crew responsible for opening accesses and leases with heavy equipment such as snowcats, tractors, mulchers and Bobcats.